Proposal for adverts, sales and business promotion - Abuja
Sunday, 21 January 2018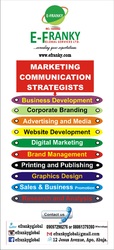 Item details
City:
Abuja, Federal Capital Territory
Contacts

E-Franky Global Services Limited

08061379390
Item description
PROPOSAL FOR ADVERTS, SALES AND BUSINESS PROMOTION
Marketing a new or existing business is not a child's play and this is where we would like to step in. I, Eze Franklin Chinonye, A Marketing Communication Strategist at E-Franky Global Services Limited, with over four years of practical experience in business development, brand management, advertising and media hereby present this business proposal, which will be mutually beneficial for us and will enable you to advertise your products and services in the best possible way.
As a Marketing Communication driven company, we aim to use the medium of fliers, handbills, stickers, Blogs, Search Engine Optimization, E-mail Marketing, Bulk-SMS, Social Media ads such as Facebook, Twitter, Tumblr, Pinterest, Google Plus, Whatsapp, Instagram, Google Ads, etc, to advertise and promote your new or existing products and services; hence, reach out to the maximum customers and target audience. In addition to reach out to your respective target market, we have a complete database of emails and phone numbers of over 100 million Nigerians' emails and phone numbers of Company Executives, Directors, Employers, Business Owners, Employees, Job Seekers, etc. We also focus on banner, newspaper, magazine, television and radio advertising, awareness creation for products and services in-order to give it the required online and offline credibility.
We will be intensively working on this project for the period as will be demanded by you and you will observe the growth and impact of the plan at the end of the period. Rather than charging you on per service or ad basis, we shall be collecting a one or two-time lump sum amount, which is open to discussion. If you agree, we shall employ a full time commitment for your job in order to give your products, business and services, the required online and offline presence. Please kindly respond back to us in your convenience if you agree to this proposal.Your visibility is as important as your ability.
Thanks in anticipation.